On the 17th February 2011, 5 year old Corbin had a life threatening, yet ultimately life changing operation at Great Ormond Street Hospital. The operation was to completely disconnect the right hand side of his brain to Try to minimise the terrible epileptic fits which were destroying his development.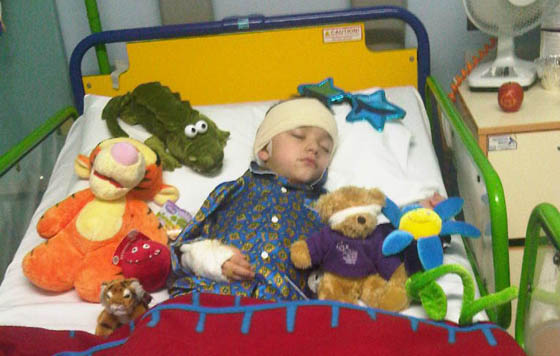 Naturally, both parents wanted to be by his bedside for, especially for the post operative period, to help care for him and support each other at this very traumatic time. The hospital could only accommodate one parent.
The CHASE Children's Hospice care team contacted us to see if we could assist with some funding towards the accommodation for one parent to stay nearby at the time of the operation. We invited Corbin's family to send in an application for us to consider.
We were pleased to tell them that we had awarded a grant which covered them for the 7 nights that they eventually stayed. The family was delighted to have our support.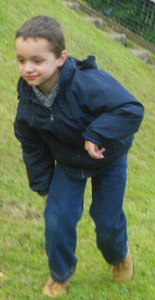 Corbin's op went well but it left him paralysed down his left side. Gradually the working side of his brain began to take over and his left arm, leg and side of face, which means they are all capable of working. His fits reduced significantly. At this point, to help with his physical redevelopment, CPT purchased a specialised buoyancy jacket for when he goes swimming. Corbin loves swimming and has been instrumental in his rapid progress.
June 2012 – Recently, the medical teams have started to very slowly wean him off of his anti epilepsy drugs, so they can see if he needs to take them anymore. In the coming months they will be in a better position to see what Corbin's future holds.
In Dad's words…..

"The Trust has stayed in touch and have offered more than just funds. They have continued to offer support and a genuine interest in Corbin's recuperation "
We had the pleasure in meeting Corbin and his family in June 2011 at our fun day. Corbin is delightful and we were so pleased that they could attend the event. We will be keeping in touch and following Corbin's progress.
Hugs for a very special family. X
---
Charley Paige Trust would like to thank Corbin and his family for allowing us to use this story. Photos supplied by the family.
NB. We do not identify families or personal identities without their express permissions.