DON'T FORGET, if you are a UK personal tax payer we can claim an extra 25p for every £1 you donate with Gift Aid. All donations will go directly into the charity's funds.
---
Shop with your favourite retailers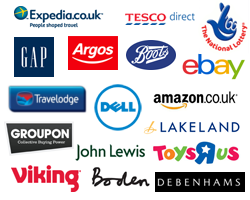 Choose from over 2,700 retailers. Retailers will donate, at no cost to you, every time you buy. How it works:
Let's say you want to buy a pair of shoes from John Lewis. Instead of going to johnlewis.com directly, you first go to easyfundraising.org.uk.
From the easyfundraising website, click through to John Lewis to make your purchase. This tells John Lewis you came from easyfundraising. The price of the shoes is exactly the same.
After you buy your shoes, John Lewis will give you a cash reward that you can turn into a donation for The Charley Paige Trust. easyfundraising collect this and send it on at no extra cost.
You can skip steps 1 and 2 with the easyfundraising Donation Reminder. Just click the reminder when you shop to receive any eligible donations. You'll never forget a free donation to The Charley Paige Trust again!

Unlike the larger charities, who have lots of overheads, we can use your money to help directly where it's needed. Only a very small amount of the money raised is used for essential costs. i.e. Liability insurance, lottery license (so that we can run raffles and draws) and our annual website subscription, which is very small. No one is paid for their services, everyone is a volunteer. And no plush offices to run. So you can be assured that almost every penny raised goes directly to these families.