Love for a lost child is also remembered in 'Charley's Song' performed by 'Pink Foot'. Written about the joy and privilege of being touched by Charley's short life, with lyrics by Charley's Nannie and music by friends Kristian and Matt, it celebrates the happy memories of family love.
Listen to a sample of Charleys Song. (This song belongs to Charley Paige Trust and all rights are reserved.)
£3.50 (inc. p & p).
Fill in the form below and we will send you details on how to purchase the song.
Our Smile Bags are for children who have to spend a long time in hospital. Often these children have spells in isolation and cannot visit the ward playroom. The bags contain a selection of stickers, activity books, colouring books and pencils, craft kits and other fun things, all in a little cotton reusable bag. The Play Specialists will give one to a child when they need cheering up, distracting whilst having an uncomfortable procedure or just to fill some of the many hours they spend on the ward. The children also have the opportunity to enter our monthly competition...design a smiley face. The best judged picture each month wins a £10 Argos voucher, a certificate and some colouring sheets. If you would like to sponsor a SMILE you can make a donation by clicking one of the 'Donate Now' buttons.
Fund one bag - £5.00
or click below to donate:
---
Shop with your favourite retailers 
How it works:
Let's say you want to buy a pair of shoes from John Lewis. Instead of going to johnlewis.com directly, you first go to easyfundraising.org.uk.
From the easyfundraising website, click through to John Lewis to make your purchase. This tells John Lewis you came from easyfundraising. The price of the shoes is exactly the same.
After you buy your shoes, John Lewis will give you a cash reward that you can turn into a donation for The Charley Paige Trust. easyfundraising collect this and send it on at no extra cost.
You can skip steps 1 and 2 with the easyfundraising Donation Reminder. Just click the reminder when you shop to receive any eligible donations. You'll never forget a free donation to The Charley Paige Trust again!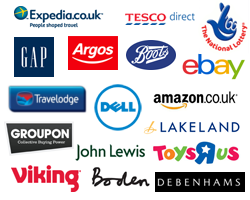 Choose from over 2,700 retailers. 
Retailers will donate, at no cost to you, every time you buy
All money will go directly into the charity's funds.

Unlike the larger charities, who have lots of overheads, we can use your money to help directly where it's needed. Only a very small amount of the money raised is used for essential costs. i.e. Liability insurance, lottery license (so that we can run raffles and draws) and our annual website subscription, which is very small. No one is paid for their services, everyone is a volunteer. And no plush offices to run. So you can be assured that almost every penny raised goes directly to these families.